Welcome
to the Class of '63 Web Site
---

I miss 9/12. I would never want another 9/11, but I miss the America of 9/12. Stores ran out of flags to sell because they were being flown everywhere. People were Americans before they were upper/lower class, Jewish/Christian, Republican/Democrat. We hugged people without caring if they ate Chic-Fil-A or wore Nikes.
On 9/12, what mattered more to us was what united us, not divided us.
#NeverForget
---
2019 Mini-Reunion
The Annual Irvin Alumni Ruidoso Rendezvous.....
An Established & Growing Tradition!
October 14-17, 2019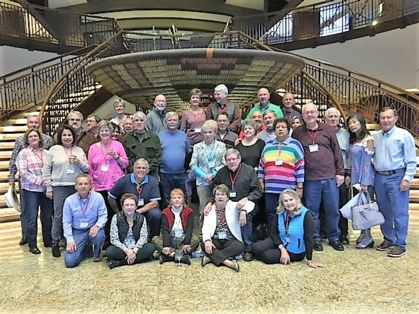 For details click on this link.
Click on the return arrow of your browser to return to this page.
We hope everyone is in good health and doing great. Just a reminder we are about four months out from the annual 2019 Irvin Alumni Rendezvous at the Inn of the Mountain Gods in Ruidoso 14-17 October 2019. Below are the Alumni who have signed up so far to attend (if you have already contacted us and your name is not listed below, please let us know – sorry). If you would like to attend or think you might be able to attend, please email one of us to let us know. Please click on the link above to go to the Rendezvous information packet. Please share the information with anyone you know who might be interested in attending. A fun time is guaranteed!!
Take care,
Pam Cotten - pgcotten@gmail.com Bryson McCool –brymccool@gmail.com
Taffy Bagley ('67)
Vernon ('61) and Marsha Bolstad
Merriellen (Grant) Bonem ('61)
Mike and Nancy (Johnson) Braskett ('68)
Monica ('62) and Alvin Bruns
Paul ('65) & Margo Caigoy
Marston & Pam (Davis) ('62) Cotten
Mike Dickson ('63) & Gwen (Dillon) ('63) McLaurin
Jim Dunlap ('63)
Joe ('65) & Marsha ('67) (O'Leary) Hendrus
Frank James ('63)
Bryson ('61) & Chris (Laffler) ('65) McCool
Norma (Johnson) Reagan ('68)
Clark ('63) and Sue Schadle
Detlev Steklis ('63) and Sylvia Gee
_______________________________________
The 50th Anniversary Celebration and Reunion is over ... but we will help you make the Memories last.